Part of the StoreVent ventilation system range
The Martin Lishman StockVent system has been specifically designed to provide
livestock farmers with products that maximise animal productivity, efficiency and health.
Extract warm air from buildings and replace it with cool fresh air to reduce heat stress and improve animal productivity
The StockVent system includes high efficiency belt-drive fans to ventilate larger stock buildings as well as pedestal & wall fans to circulate air in a wide variety of parlour and barn applications.
Why use the Martin Lishman StockVent system in your building?
StockVent is specifically designed to enhance the quality of the environment in the livestock building throughout the year.
StockVent removes moisture, heat and odours generated by livestock, replenishing the supply of oxygen by bringing in cooler, drier air from outside the building.
StockVent removes harmful gases such as ammonia, methane and hydrogen sulphide which clearly benefits the animals but also provides a more comfortable working environment.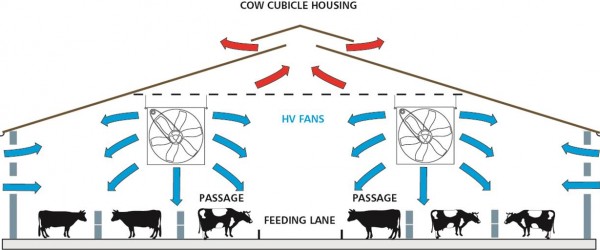 Why is it essential to ventilate your livestock building?
Heat produced by livestock naturally rises. If it is unable to exhaust from the building, it will condense on cold roof surfaces, increase humidity and make bedding damp and cold. This creates a suitable environment for harmful bacteria to thrive.
Not only does this increase the risk of disease for livestock, it also increases heat stress levels which can have a serious impact on productivity, particularly milk production, as well as fertility, miscarriage and low calf birth weights.
Installing a ventilation system provides a continuous stream of fresh air which alleviates the effects of heat stress and contributes to maintaining and increasing livestock production levels.
Installation of StockVent
StockVent system components should be installed to take the best advantage of prevailing winds and the airflow generated by ventilation systems.
Installation of StockVent components must be carried out by competent engineers in accordance with all statutory electrical and health and safety regulations.
Specifications of the StockVent System Components
The Turbulator rang
e of re-circulation fans are constructed with Alu-Zinc or stainless steel casings, with high efficiency, lightweight motors and non-corrosive plastic impellers, offering five sizes from 355mm to 630mm diameter and airflow up to 2.86m3/s.
The units are suitable for all year round ventilation and movement of air within milking parlours and calf houses, giving evenness of temperature throughout the unit, removing condensation and improving the building environment.

The belt-drive fans are available in four
sizes: with impellers of 800mm, 1000mm, 1250mm and 1760mm diameter, each with single or three phase motors and the option of louvres and guards.
Constructed from galvanised steel with a specially designed stainless steel impeller, these fans are extremely hard wearing and robust. The drive mechanism includes sealed for life maintenance free ball bearings, which means low noise and vibration levels.
The range is available in variations for either wall mounting with shutters, suspension mounting from roof space or floor mounting with wheels.
The range can also include a centrifugally operated back draught shutter or an automatic louvre shutter model. Units are supplied fully assembled complete with standard safety guards.
Pedestal and wall mounted air circulation fans are designed for use in a wide variety of dairy applications.
Wall mounted fans are suitable for mounting in milking parlours, holding areas and calf housing.
Pedestal fans are most suited for localised cooling.
Versatile circulation fans ideal for a variety of agricultural buildings.
The range offers high performance motors, efficient cooling and quiet operation.
The StockVent Ventilation Sock System provides a constant, positive supply of fresh air to dilute foul air and, at the same time, create an even air movement in the building. The system is easy to install and improves the animal environment at low cost.
For more information on the StockVent system, click on the button below to download the brochure.